Pan-London Careers Education Conference 2022
8 Jul 2022
Reed in Partnership's Central London Careers Hub service recently hosted the Pan-London Careers Education Conference.
The Careers Hubs are a national initiative funded in London by the Careers & Enterprise Company, European Social Fund and Greater London Authority.
Careers Hubs support schools and colleges to develop a cohesive, connected, and progressive careers programme.
It does this by ensuring education and training provision is responsive to the needs of the economy and that employers' required skills needs are met quickly and effectively.
The Careers Hub works closely with local secondary schools/colleges, SEND and Alternative Provision settings, Local Enterprise Partnerships, businesses, Cornerstone Employers, and careers providers.
Many of these were in attendance at the Pan-London Careers Education Conference. The event brought together representatives from across London's schools, colleges and youth groups, to share ideas for continuing to improve careers education for all young Londoners.
Opening the event were Jules Pipe CBE, Deputy Mayor of London, and Oli De Botton, CEO of Careers & Enterprise Company, who gave the key-note speech.
As part of our event there was the chance for exhibitors to showcase opportunities and share ideas with other professional peers, colleagues and employers.
Beth Clarke, Head of People Development at Wagamama, then spoke in a panel discussion about breaking the perceptions about hospitality careers, the current difficulties the hospitality sector faces, the growth of their 150-restaurant chain (with 50 in London) and advertising on TikTok. Beth explained how hospitality helps young people expand their key transferable skills, going on to say: "We want to work with you. One of the easiest ways to do that is through Careers Hubs."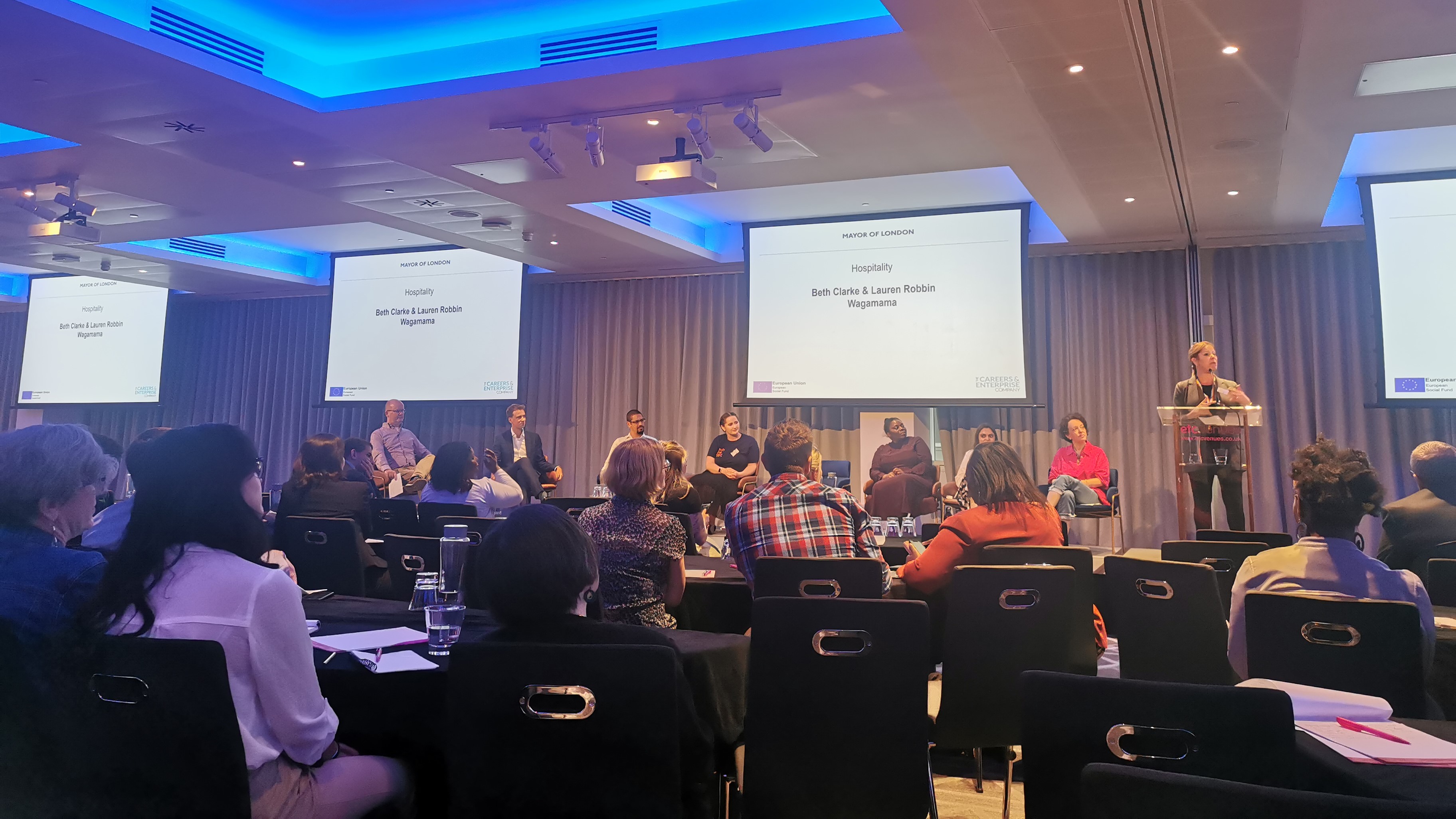 Oaks Park High School hosted a range of masterclasses and workshops at the event, which focused on areas that young people will benefit from when it comes to moving on from high school. The workshops covered future jobs in London, engaging parents in careers education, improving careers education for young people with special educational needs and disability and delivering quality work experience opportunities. The workshops gave those who attended a more detailed in-sight into the support that is available for young people in London.
Those who took part in the masterclasses had the chance to explore information about London's labour market. There were also examples of students' transitions to higher education, including various vocational routes that are available.
London Careers Hub Awards
During the event we also held an awards ceremony to recognise some of the great work being done to champion better careers advise for young people.
The below awards were presented by Jules Pipe CBE. The winners were:
Careers Champion 2022 - Central London Careers Hub
Andrew Okell (Enterprise Adviser)
Enterprise Adviser of the Year 2022
Andrew Okell
Careers Partnership Highly Commended 2022 Connor Natella (Enterprise Coordinator) Kate Collins, (Careers Adviser, Ernest Bevin College) Natalie Cheung (Employer Engagement Manager) Kayleigh Brown (Schools and Colleges Engagement Co-Ordinator) - Roehampton University with Ernest Bevin College Nital Patel (Senior Vice Principal Ernest Bevin College) - Roehampton University with Ernest Bevin College
For more information about our delivery of the Careers Hub service, please visit londoncareerscentral.co.uk